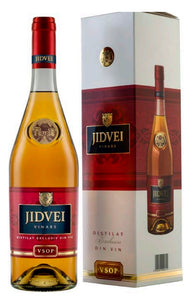 Vinars Jidvei VSOP
VINARS JIDVEI VSOP
100% Distilled wine
42% vol. alc. - 0.70l.
Versterkte wijn
Ageing: min. 5 years in Transylvanian oak barrels
Aspect, color: clear, gold-yellow to brown with tints of amber
Nose: notes of figs and vanilla
Palate: rich mouthfeel, caramel taste, slightly spicy
Tarnave Valley- the area where Jidvei is located, known since the 1200s as Weinland – Land of Wine, is the place were Sachsen colonists, famous for their vine growing skills, used to make a wine distillate they called Weinbrand – burned wine.

This is how the Romanian name for wine distillate appeared: VINARS, literally meaning "burned wine".
True to tradition, Vinars Jidvei VSOP is made only by distilling young high-acidity wines (varietals like riesling, sauvignon blanc, feteasca regala) which give it finesse and aroma, while its ageing for a minimum of five years in Transylvanian oak barrels completes it by giving it an amber color and a smooth, velvety taste.
---
Warm aanbevolen...
---